305 Denison Road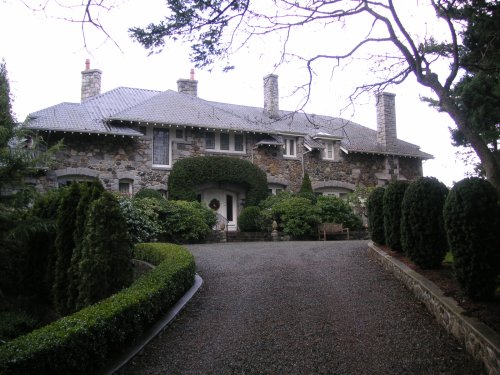 'Kingsmount' is a stone clad, two (front) and three (rear) storey residence with full basement on a large and manicured treed lot located on the northeast side of Gonzales Hill. Its high street frontage exhibits British Arts and Crafts style with a picturesque silhouette, tall chimneys and prominent front entrance.
Heritage Value:
The value of 'Kingsmount' is associated with its architects, D.C. Frame and Samuel Maclure. Built between 1910 and 1911, Kingsmount was designed by David Cowper Frame (1882-1960) for civil engineer George Leask. D.C. Frame was a versatile designer whose career spanned the decline of traditional architecture and the rise of Modernism. He apprenticed under Victoria-based architect F.M. Rattenbury, architect of the British Columbia Parliament Buildings, between 1905 and 1908. This placement put Frame in a position to expand his social and professional network, garnering him a number of residential and commercial commissions for some of which he partnered with prominent local architects. His work was eclectic and varied; but Frame established himself in the Arts and Crafts genre that he employed at Kingsmount. Samuel Maclure (1860-1929) was commissioned to design a new wing between 1925-1928 for the French Count Jean de Suzannet and his family that included a new drawing room, two bedrooms and an additional wraparound stairway in matching granite. A native British Columbian, Maclure's name is virtually synonymous with the predominantly British Arts and Crafts style of the domestic architecture he designed for prominent businessmen on Vancouver Island and the Lower Mainland. He gained international recognition during his forty-year career, with close to five hundred commissions. Many of Maclure's buildings with their beautiful and functional interiors have been recognized as masterworks and are considered part of the cultural heritage of British Columbia.
'Kingsmount' is valued as a very fine example of British Arts and Crafts in its principled use of honest materials such as the use of random rubble stone in this rocky location, high standard of craftsmanship and siting. The common living areas were situated at the back of the house for full command of the spectacular views towards Mount Baker across the Strait of Juan de Fuca. The rooms retain their original configuration and in many instances, their original use such as the linen room, nursery and music room.
Considered an architectural landmark that completes the vista along Denison Road, 'Kingsmount' is a significant component of the Gonzales Hill neighbourhood.
Character Defining Elements:
- spectacular view across the Strait of Juan de Fuca to Mount Baker and the surrounding environs of south Oak Bay;
- setting on the apex of Sylvan Lane at the base of Denison Street on a large lot amongst other heritage homes;
- original Arts and Crafts butterfly plan with two angled symmetrical wings from the central axis (see also 1086 St. Louis Street by D.C. Frame)
- form, scale and massing;
- picturesque roof silhouette;
- stone foundation, random rubble walls and chimneys, rough-dressed granite quoins and dressing;
- style details such as use of local materials, the horizontality of the massing and exposed rafter tails;
- exterior architectural elements: five stone chimneys (3 internal; 2 external), arched principal entrance with sidelights;
- regular fenestration: recessed multi-pane, multiple assembly casement windows, stained glass;
- interior features: 10' ceiling heights, radiators, millwork including exposed ceiling beams, built-ins, balustrade and newel posts, bathroom tile and plumbing fixtures, ornate fireplaces with firedogs, tile, cast iron and woodwork, furnace from 1910 'Arco Ideal sold by Crane Ltd. No. 4-34W', annuciator, marble wrap-around staircase;
- landscape features: prominent coniferous and deciduous trees, garage
Locality:
Barkley / Crescent / Quimper